What Did You Miss at our 2011 Fair?
The 2011 Central Florida Inventor's Fair was a success. It is estimated 250 people visited the 20 exhibits in the Library Central room of the Orange County Public Library Downtown. Each of our five speakers had an average of 25 listeners.
The exhibitor inventors said they accomplished what they set out to do for the day and their time was well spent. They even said they would come again next year. Click here to see who our exhibitors were.
Four judges from SCORE interviewed the exhibitors and rated each of the inventor's exhibits resulting in the following awards:
Best of Show - Easi-Dig, Inc., 21st Century Shovel
Next Big Thing - Keane Corp., PaintSmart-Trayz
Most Innovative - WindAge, LLC, The DC Village
Most Marketable - Roger Fast, Fast Hook-UP Hitch
Another award determined by the visitors was the People's Choice. Each visitor was issued two tickets to place in a bin on their favorite exhibitor's table. The one with the most tickets at the end of the show is the People's Choice. This year it turned out to be TECreation Development with the MaxAir Swim Fin.
To assist with gathering marketing data ICCF gathered demographics from 110 visitors. These visitors participated in surveys taken by several of the exhibitors and won prizes for their effort. Some of the prizes distributed this year were:
A batch of 1000 business cards by American Sign & Printing

ModernTech ball cap and a ModernTech T-shirt from ModernTech Mechanical

An hour of consulting and a $25 gift certificate to Carrabas Italian restaurant from TECreation Development

A $25 gift certificate to Chez Vincent in Winter Park from ICCF

A $25 gift certificate to A Land Remembered near Universal from ICCF

Homemade Strawberry Jelly and Raspberry Jelly

A Rolodex

Candy dishes
Based on the demographic information our attendance was 55% male and 45% female with an average age of 50. The ethnic profile was 52% white, 25% Black, 16% Hispanic, 4% Asian, and 4% other. This, not surprisingly lines up pretty well with the ethnicity of Orlando. They were 49% married, 25% never married, 20% divorced, 4% widowed, and 2% separated. Many of These folks had children. 39% were over 18 years old, 22% between 7 and 17, and 14% were less than 7. 26% had no children. They were an educated lot with 38% with some college, 27% had post graduate degrees, 26% completed college, 7% finished high school and 2% have not finished high school. The average income was $61,000. About 40% of the visitors just happened to be at the library when they joined us. Others found us through word of mouth, newspaper, Library literature, and internet in even proportions of about 12%. WDBO Radio brought in about 7%. About 80 people signed our email list.
Thanks to American Sign and Printing of Longwood for producing some of our banners and the award certificates.
If you would like to participate in next year's Inventors' Fair join us at our meetings and help us get it organized. This year's fair was organized mostly by two people. Imagine how big it could be if 20 help get it going. Our special thanks to Ian Alexandre for pulling this all together. It was his vision and drive that made it happen.
Who
This was open to the general public to see exhibits and attend seminars. No Registration was necessary.

Where
Orange County Public Library Downtown, Orlando
101 E. Central Blvd.
Orlando, FL 32801
407.835.7323

When
Saturday, August 13th, 2011
from 12 Noon to 4:00 PM
Open to general public without registration
Why
To promote creativity and entrepreneurial spirit in the Central Florida Area. This is your opportunity to be the first to see inventions before they hit the market. Learn how to invent, protect, market, and sell your ideas. As an inventor you may show your new products or do market research with real customers.
There will be 20 free exhibit tables available on a first come first served basis. Apply for yours using the registration form on the right.
Inventors, this is a great time to perform your market surveys.
Contacts
Dr. David Flinchbaugh 407-852-4869
Ian Alexandre 407-774-4777 fastframing@aol.com
Agenda
11:00 AM - Setup
12 Noon - Exhibits Open
12:30 PM - Lauren Rowe Speaks
1:00-3:30 PM - Seminars
3:30 PM - Awards and Closing Comments
4:00 PM - Exhibits Close
5:00 PM Break down complete
Speakers
A special thank you to all of our speakers for their time and effort dedicated to our fair.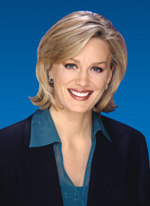 12:30 PM
Keynote Speaker
WKMG TV 6 News Anchor
Lauren Rowe
1:00 PM
The US Patent Library is Closer Than You Think
by Dr. Jason Martin an Associate Librarian at the University of Central Florida Libraries. He was formerly the Patents and Trademark Librarian at Louisiana State University and the University of Central Florida. The UCF Patent and Trademark Depository Library (PTDL) is open to the public. He will explain the benefits of using the PTDL, its hours, and how to find parking. He will also demystify patent classification codes and how they are used in patent searching.

1:30 PM
Coupling Academic Research to the Innovation Economy
Dr. M.J. Soileau Ph.D., UCF VP for Research and Commercialization, will be talking on how UCF handles commercialization of UCF inventions. Dr. Soileau is well qualified in the area of innovation. With a M.S. in Physics/Optics, and Ph.D. in Electrical Engineering/Quantum Electronics he is on the board of over a dozen profit and non-profit companies. He has served in the Air Force, Navy, and as a professor at two universities and has been at UCF since 1987.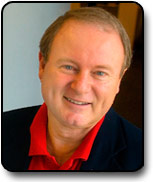 2:00 PM
Hatched an Idea? Let us Incubate It
by Jim Bowie, Site Manager of the St. Cloud UCF Business Incubator
2:30 PM
How to Write Patent Claims
by Paul Royal B.S.M.E., JD, President of the Patent Guild. He is a registered Patent Agent and former Patent Examiner. He explains what a patent is and how to create claims that are meaningful. A PowerPoint copy of his presentation is available by clicking here.
3:00 PM
Innovation Engineering
By Mark Tellam
3:30 PM
Closing Ceremonies
Presentation of awards and raffle rewards
Fair Picture Gallery
If you have pictures from the fair you would like included please send them to us by clicking here. Please include a caption for each picture.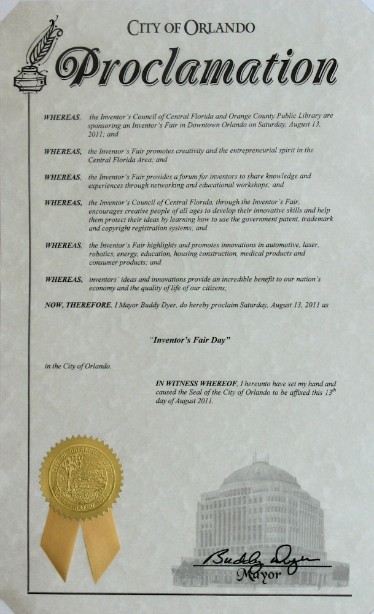 Street parking is metered before 6 PM every day except Sunday. There is also the Library parking garage which is immediately across the street from the main entrance of the Library on Central Blvd. It is shown on the interactive parking map as number 12. Parking in the garage is a minimum $2 with a maximum of $15. (I am not sure what the hourly rate is.)
2011 Exhibitor Registration is Closed
No registration is required to see exhibits and attend seminars.
Registration deadline is August 1st.
We reserve the right to exclude any exhibitor, service provider or organization from exhibiting, should any of our board members or members of the library raise a question regarding suitability.

By signing under "Signature" below, I agree to abide by all Orange County Library rules, and local and FL state regulations and ordinances, and accept and agree to all of the "Participation Rules" shown on this web page.
Exhibitor Participation Rules
Tables
Tables are available in rectangular 3'x6' or 3' diameter round. Exhibitors are to provide their own table covering and must keep at least one person at their table at all times. Two chairs will be provided for each table.
Signage
Tables will be away from walls. Exhibitors must provide their own identification signs and method of sign support.
Sales
Exhibitors will be able to close sales at the event provided 10% is donated to the Library.
Electricity
Low power 110v electricity will be provided as needed. It is recommended to supply your own short extension chord in case power is not available immediately below your table.
Setup
Setup will start at 10:30 AM. Parking is metered in downtown Orlando on Saturdays. There are parking garages in the area. The closest is on the south side of E. Central Blvd. immediately across the street from the library. More parking information can be found by clicking the parking link below the map on this page. Loading and unloading will be done at the Library loading dock which is located on the north side of the building which is on about mid block on Wall Street.
Food
No food will be allowed in the exhibit area. The Library maintains a cafe where food may be purchased and eaten.
Break Down
Break down will commence at 4:00 PM and must be complete by 5:00 PM (Library closing time).
We reserve the right to exclude any exhibitor, service provider or organization from exhibiting, should any of our board members or members of the library raise a question regarding suitability.