Here is where we shamelessly plug our products. They are listed in posting order order. Click on the image to bring up a new page with a full .pdf of the sell sheet image for you to peruse. To have your sell sheet here please send one to us using this contact us link.
Sell sheets we would like to see here:
Fast Framing System
Keep Me Kozy
Perkytail
Sydspeak
Urocycler
We know you have products let's sell them.
The Booster Seat Buddy mounts directly onto your booster seat to get rid of buckling up problem. Getting your little ones buckled in their booster seats isn't easy. Kids want to do it themselves-but it's too big a job for such little hands. And for parents it can be a painful stretch and a real struggle. Well not anymore! The Booster Seat Buddy makes buckling a breeze! It's so easy that ALL booster seat kids can do it themselves. At less than $10 you can't afford to be without this. Contact Wayne London or call 863-414-7625.
Go Caddy® is a slender tote and water bottle holder with multi-compartments to hold all you items by your side for hands free traveling or on the go fitness. It conveniently holds a water bottle, identification, cruise pass (if you are on one), money, credit cards, passport, camera, cell phone, sun glasses and maps. Perfect for Cruises, Day Trips, Walking, Hiking, Outdoor Festivals, Sporting Events, Fitness Activities or wherever your active life style takes you.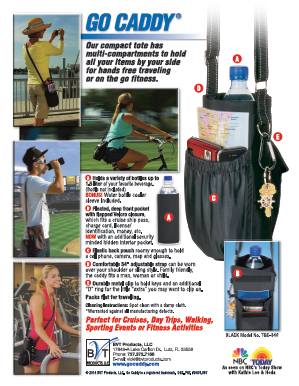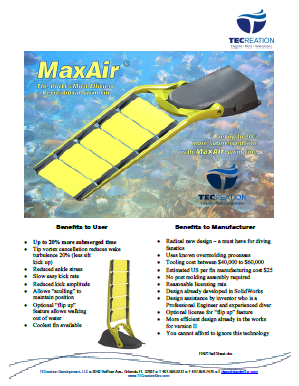 The Ostrich Ladies Comfort Lounger (LCL) is the first chaise lounge designed for women by women. The innovative patent pending breast cavity expands and contracts to comfortably accommodate and support varying sized women while lying in prone position. The twelve inch seat height allows for easy access and exit. In addition, the LCL also integrates the Ostrich Chairs' patented open / close face cavity and arm cut outs for reading or tanning face down.
The MaxAir tm swim fin takes the effort out of diving. While making it easier to swim it also improves your top end in an emergency. It is fully patented and has a second patent pending. Major manufacturers have tried them and agree this is better than what they have but are unwilling to spend the capital to get them to market because it will hurt the sale of their inferior fins so we are going to do it ourselves through CroudFunding. Learn more at TECreation Development.