The Inventors Council of Central Florida was formed in the 1950's and has been continuously running since 1974 to provide an educational, not-for-profit community service organization to encourage creative people of all ages to develop their innovative skills and help them protect their ideas by learning how to use the government patent, trademark, and copyright registration systems.
Inventing is only the beginning of the story. Once an idea has been created it is fairly useless until it gets to the marketplace. We help here too by providing resources to help you understand and connect with marketing, financing, production and sales. We do not do the work for you. That is your job. But we can help you get going in the right direction.
In December of 2017 we officially became a Florida corporation, Inventors Council of Central Florida, Inc.
In October of 2018 we became a federal 501 (c)(3) charitable organization making your donations tax deductible.
Organization bylaws are viewable here.
We are inventors helping inventors. Members have access to many contacts and services that help to bring their creations to reality. At this point all work done by anyone in this organization is strictly voluntary.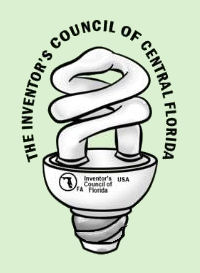 Officers
2022-2023
President - Neil Narwani

V. President - Gene Rumley

Secretary - David W. Woods PE
Treasurer - Jim Stana
2021
President - Pierce Mooney

V. President - Neil Narwani

Secretary - David W. Woods PE
Treasurer - David Tomkins
2020
President - Ian Alexandre

V. President - Maryann Kilgallon

Secretary - Pierce Mooney
Treasurer - David W. Woods PE
2019
President - Ian Alexandre

V. President - Maryann Kilgallon

Secretary - Pierce Mooney
Treasurer - David W. Woods PE
2018
President - David W. Woods PE

V. President - Maryann Kilgallon

Secretary - Pierce Mooney
Treasurer - Ian Alexandre
2015-2017
President - Dr. David Flinchbaugh
V. President - David W. Woods PE
Secretary - Ian Alexandre
Treasurer - Heidi Flinchbaugh
1974-2014
President - Dr. David Flinchbaugh
V. President - Heidi Flinchabugh
Treasurer - Heidi Flinchbaugh