Inventors at Maker Faire Orlando 2015
It's all Over Except the Shouting
Maker Faire was Awesome. If you missed it that is your loss. Send in your photos to keep your marketing effort moving by clicking here. We will post them here.
This September the Inventor's Council of Central Florida had a significant presence at the Orlando Maker Faire.
We showcased how inventions happen. This was like an inventor's fair but better! There were over 10,000 visitors from all walks of life to look at and learn about home made stuff. In general the visitors were middle to upper income, well educated people and families with an interest in creativity of all sorts. These are just the type who would be interested in your invention and how it came to be. Check out our picture library.
The 2015 Floor Plan
This is only a small segment of the 3rd floor of the Orlando Science Center where the inventors are set up. There are over 250 exhibits and we expect over 15,000 visitors.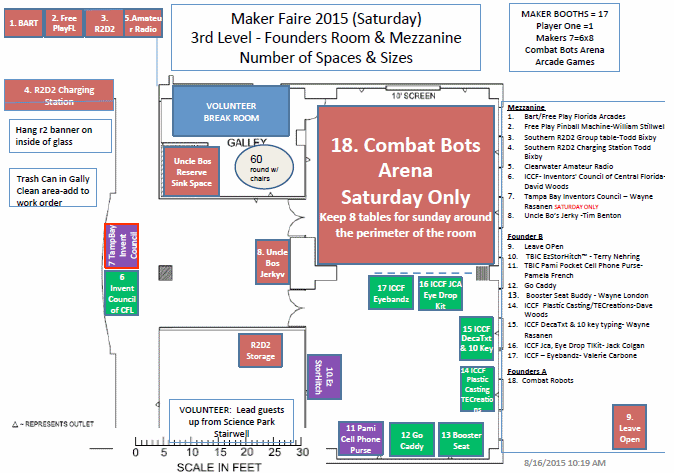 What is a Maker Faire?
Maker Faires are a forum for makers of all sorts of stuff to show off their creativity to the general public. The focus is on teaching the visitors how the maker created whatever it is they are displaying.
To that end, as an exhibitor you would be expected to be ready and willing to teach anyone who stops by how you went about making your invention. Exhibitors purely showing some aspect of their invention process may exhibit for free. There will be a charge for those also selling. For those just selling there will be an increased charge.
This is a juried event. That means each exhibitor will present what they intend to do at the event and the event organizers will determine if that is compatible with their objectives. This means have a plan how you can educate the visitors on some aspect of inventing, making prototypes, developing ideas or something along that line. There will also likely be opportunities to do a presentation in an auditorium.
What's in it For Inventors?
ICCF is planning on making market research easy for you. The inventors will likely be grouped together. ICCF will have a welcome location where we will gather demographic data from the visitors. They will be issued identity tickets and entered into a raffle. Each inventor will then be able to ask the visitors to do a brief survey (5 minutes or less) and we will be able to link that survey to the demographic data. This way you and the visitors save survey time by only collecting the demo-graphic data once.
Here is a sample Survey Monkey Survey to let you evaluate if that is the right survey mechanism for you.
The Sponsors
Maker Faires are licensed by Make Magazine. It is being produced by FamiLAB, a Central Florida hackerspace. Finally it is being hosted by the Orlando Science Center.
Where
Orlando Science Center
777 E Princeton St., Orlando, FL 32803
When
Saturday & Sunday September 12th & 13th, 2015
Time 10 AM to 5 PM
Open to general public with payment of standard Orlando Science Center Admission.
Why
To promote creativity and entrepreneurial spirit in the Central Florida Area. This is your opportunity to be the first to see inventions before they hit the market. Learn how to invent, protect, market, and sell your ideas. As an inventor you may show your new products or do market research with real customers.
Inventors, this is a great time to perform your market surveys.
Contacts
David Woods, TEC Engineering, Inc. 407-859-8737
Market Analysis Assistance
To help you with your market analysis we will be collecting basic demographic data so you will not have to. Here are .pdf files which show How we will be surveying at the fair and the General Demographics to be Collected. Click here for a presentation on how to create market survey questions. Click here to download a sample Market Data Sheet in Microsoft Word .DOC format geared toward determining product sale price.
Here is a sample Survey Monkey Survey to let you evaluate if that is the right survey mechanism for you.
Parking for exhibitors will be remote lots with a shuttle. For visitors it will be in the Science Center parking structure and other nearby lots. It is expected the SC parking will fill quickly. Be sure to check out the other options and map here.
Where did the 8,300 visitors come from in 2014?
Use the map below to locate the zip codes of 500 of the Maker Faire visitors. The numbers represent how many came from that zip code.
Exhibitor Participation Rules
Tables
Tables will be provided by the Science Center. Space allocation will be worked out as the registrants are vetted. More details to come.
Signage
Tables will be away from walls. Exhibitors must provide their own identification signs and method of sign support. Attachment to walls and ceiling is prohibited.
Sales
Exhibitors will be able to close sales at the event but there will be a charge for exhibits doing sales. The rate has not been set yet but it is expected to be less than $100.
Electricity
Low power 110v electricity will be provided as needed. It is recommended to supply your own short extension chord in case power is not available immediately below your table.
Setup
Setup has not been established yet. Loading and unloading will be done at the Science Center loading dock which is located on the north side of the building.
Food
As an exhibitor you can bring a small cooler but eating on the floor is discouraged. There will be break rooms on each floor for eating. If you want to buy food there expect a loooong wait. You can preorder Subway meals using the forms made available to you during registration.
Break Down
Break down will start at 5PM Sunday.
We reserve the right to exclude any exhibitor, service provider or organization from exhibiting, should any of our board members or members of the Science Center raise a question regarding suitability.