Marketing makes inventing look easy but marketing itself is not. The greatest idea is useless if nobody knows about it. Once you have a new idea it is your job to find out if anybody else wants to use it and what they will pay for it. If you cannot find enough people to buy your idea at a price that will make you money it is time to find another idea.
Here we provide links where you can learn about marketing, get marketing materials made, or submit your idea to an organization who will do the marketing for you. If you have contributions to this list please contact us with a link and a brief description of the service including why you found it helpful to you and we will get it posted for you.
Please be aware that downloading Power Point files is done immediately when you click on the link. You will find your own copy in your downloads directory on your computer. That is usually \My Documents\Downloads on Windows machines.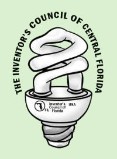 Learn About Marketing
In our May 2013 meeting Delores A. Edelen of SCORE gave a great presentation on how to prepare a market survey. You can download a self running copy of the Power Point presentation by clicking on How Much Would You Pay for a Banana? Delores is currently a professor of Sociology at South University Online and, formerly, a researcher and instructor of Sociology at University of Central Florida. She has been actively involved in market research for a long time and has boiled down the gobledygook to something that is useful for us mere mortals. After determining your invention is unique it is of utmost importance to determine if anyone else cares about it and, more importantly, are there enough people out there willing to pay enough for your product to make money. A simple market survey of at least 100 qualified respondents can help you find that out. Delores' presentation looks at why we do research, what your goal should be, how to create the survey, and how to use the results. We all thank Delores' for her great information.
In a crunch and want the basics fast? Take a look at this presentation by David Woods PE of TECreation Development. He put together a down and dirty summary on "Composing Market Survey Questions." Learn what to ask, how to ask it, and how to present it in a few minutes with this downloadable power point presentation.
Now do yourself a favor - learn it, and use it. You can find more in depth information about preparing surveys in our bookstore.
Jan Mangos of SCORE gave a presentation to us on Nov. 5, 2011. To download a self running Power Point presentation called Strategic Marketing for Your Business click on the underlined title. It outlined how marketing decisions effectively assist in building a business plan. Be sure to check out the Marketing Tool and Instructions to assist in defining your market and strategy to penetrate that market. Click on the links above to get to these resources.
Here is a great video called "How Great Leaders Inspire Action" on how to think about your project and your business and how to present yourself to the world. It was presented at a TED conference and is well worth the 18 minutes viewing time.
Sell Sheets are a primary tool for marketing your invention to manufacturers, financiers, vendors, and even consumers. This Power Point presentation covers the basics on how to put one together. Clicking on the underlined title of this paragraph will start a download of the Power Point show file.
Business Cards are a must if you are in the business of sales and all inventors have to be in the business of sales. To download a short tutorial on how to make business cards click on the title of this paragraph.
With Trade Shows, Preparation is a must. Learn why and how to benefit from your presence at a trade show. This Power point includes complete instructions on how to build an inexpensive PVC pipe banner holder to help you get noticed.
General Assistance
Here are organizations who provide support to new businesses. While we have reason to believe these are resources that will not take you for a ride you must always use appropriate caution.
Product Submission
The web sites below are places you can submit your invention for evaluation or for exposure to investors. While we have reason to believe these are resources that will not take you for a ride you must always use appropriate caution.