Inventors' Fair Exhibitors
We have an ecclectic group of exhibitors this year. But then what would you expect from inventors? Our exhibitors have solutions from lighting your bedroom while sleeping to keeping your family safe from biohazard fallout. Read on to discover our solutions to everyday problems.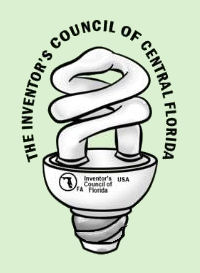 Advanced Medical Innovations, LLC & GusCo R&D, LLC - UroCycler, Urinary Bladder Management System, and The BioDome, a hazard-protection family-safe temporary shelter.
AmandaMore Enterprises - Eating Dollar App and Book - This unique comarketing effort has two ways for the user to make money. Eatingdollar iphone app changes spending behavior by providing a tap, tap, tap method to give feedback -while spending. Tap 4 for a gallon of milk or for a hairbrush. Tap 2 for an impulse buy. When you checkout you know you've spent $6. Bad habit of too many beers? Tap. "Eating on $1 A day (Or Free if You Fish)" on Amazon guides how to spend little to eat cheaply. Both shown at the Inventor's Fair. Learn to invent,design and comarket your concept. Stop by to talk.

The Art of Quality Consulting Services LLC. - Presents Go-To-Market & Commercialization Business Services - The Art of Quality in Orlando provides inventors with the needed effective commercialization and Go-to-Market strategy support during their long and often daunting journey towards commercialization. The owner, Robert Jasper, an ISO certified auditor and upcoming book author (Guerrilla funding - How to finance/fund your business project without bank loan) is a true Inventors Coach who provides inventors with proven low cost / high impact advice, how to succeed and introduce inventions successfully into markets. With his small but experienced consultant team he is dedicated to produce real commercialization success results for inventors, while keeping the inventors cost down. From "How to bring inventions into markets", "How to finance/fund invention commercialization without bank loans" to "How to find win-win licensing partners"; the low overhead and affordable small business agency is constantly researching for commercialization best practices and is able to develop customized commercialization breakthrough strategies for any kind of invention. Companies Strategy Portfolio: -New Product Development Success -Go-to-Market Planning Strategies -Invention Branding and Marketing -Self Manufacturing Success -Licensing Deal win-win Structuring -Financing/Funding Matching -Investor ready business planning -Product Marketing/Sales planning -Going Global Readiness Assessment Check out the boot and get a free 15 min. invention breakthrough success advice consultation for your invention.
Bedroom Floor Surface Lamp; Star Beam Night Light; Third Hand Jar Holder; Window Watcher - The Floor Surface Lamp is placed under the bed and it lights the entire bedroom floor while keeping the bedroom dark. The Star Beam Nightlight plugs into the bathroom outlet and has bendable LED lamps that can be pointed at important places in the bathroom at night. The Third Hand Jar Holder will hold a jar allowing your two hands free to open the jar. Window Watcher mounts outside the house above a rear window and alarms loudly when someone walks up to the window.

Easi-Dig, Inc. - 21st Century Shovel - A small blade shovel that has multiple forward points and an oversize footpad. The strengthen-ing indentations make it 37% stronger than similar designs. A wide scoop hand trowel with high sides that is pointed at the front with strengthening indentations that are 37% stronger than similar designs.
Fast Hook-Up Hitch - This is a different trailer hitch that makes it easier to hook-up to your trailer, boat, camper, etc. Very easy to use by only 1 person.
In10did, Inc. - This innovative keyboard makes it easy to touch type in about the space of a business card. You can do it with your right or left hand or use both hands. You can even just use your index fingers and thumbs and have easy access to the entire keyboard without looking! See in10did.com for some examples.
INNOVATE, LLC - Fuel Free Vehicles - INNOVATE offers a large number of on-site professional development and continuing education courses, seminars, and custom need-based courses. INNOVATE's courses and seminars will keep you current with the latest technological advancements and ensure your company to stay on the cutting edge of today's highly competitive and global marketplace. INNOVATE offers courses and seminars in the following disciplines: creativity and innovation, electrical engineering, electronics engineering, computer engineering, signal and image processing, communications engineering, control engineering, aerospace engineering, and systems engineering.
INNOVATE also works at the front end of innovation to integrate technologically sound creative ideas in engineering and design based on consumer and market demands to create useful new products that can be brought to the marketplace efficiently. INNOVATE will help you to innovate. INNOVATE offers the following services: Research and Development, Problem Solving, System Design, Technical Evaluation, Designing End-to-End Business Solutions, and Aligning Technological Solutions with Business Strategy. Visit us at innovatellc.org or call us at 407.780.5585.

Inventors Council of Central Florida - Learn more about the invention process. Do you have what it takes to be an inventor? We can help you determine your next step.
Keane Corp - PaintSmart-Trayz is a paint tray that hangs on ladders vertically or horizontally. It holds 2 brushes, a 9" roller and has a drain spout for fast cleanup. It is made of durable plastic with a comfortable carry handle. It is strong enough for a man & light enough for a woman. It is proudly made in the USA. We will have product for sale at the event.
Keep Me Kozy is a long over-due replacement for flat blanketing so kids stay "tucked-in". The design transforms a mattress into a pouch so there are no ends to pull loose! It's comforting for parents to know their children stayed covered at night. And, because it provides tangible spatial boundaries it's a special benefit to some children with sensory processing disorders
MenoStat is a new product line that utilizes existing technology to: • Instantaneously detect an increase in a menopausal woman's body temperature (beyond normal fluctuations), indicating the onset of a woman's "hot flash"; • activate a range of non-chemical and non-hormonal options to instantly relieve the discomfort caused by those symptoms.
Merlin A. I. Soft - We are a highly skilled IT service provider. We do Mobile, Web, and Software application development, Design & Develop Web Sites, and conduct Search Engine Optimization campaigns for any size organization.
ModernTech is the local distributor for the best-in-class design and prototyping solutions that independent inventors and companies of all sizes leverage on a daily basis. Beginning with our free software tools for 2D design and 3D visualization, and continuing on through the complete SolidWorks product line and Objet 3D printers; ModernTech provides the sales, support, and training for these products. Please visit our website at www.moderntech.com for more details on our product line and for upcoming no-cost webinars, live seminars and events at our local offices.
Revive and Drive - A time saving, cost effective way for busy people to reduce stress.
Snoozzee - I have been working with R. Jasper in bringing an innovative product into the market for travellers by air, train, bus or any transport people use to get from point A to B.
TECreation Development, LLC - Introducing MaxAir, the world's most efficient recreational swim fin. Now it is possible to spend up to 20% more time underwater with your existing air supply because you are not wasting as much energy swimming. TECreation has developed this fin through years of experience, research, hydrodynamic analysis, and development. They have many more products under design and can help you with yours. Using Autocad, SolidWorks, Computational Fluid Dynamics, Rapid Prototyping, Polyurethane and Silicone casting, and other fabrication techniques we can make your idea real.
UCF Office of Research & Commercialization offers:
Technology Transfer - The Technology Transfer Team Guides scientists and inventors through the complex patenting and commercialization process.

The Venture Lab - The Venture Lab mentors entrepreneurs in business plan development, market analysis, investor pitch creation, and products/intellectual property validation.

UCF Business Incubation Program - For Central Florida entrepreneurs looking to commercialize technology, UCF's award-winning Business Incubation Network offers mentoring and advice in all aspect of Business developing and growth.

GrowFL Program - For Stage 2 companies, the GrowFL program offers access to a suite of high-end, high-speed technical assistance and business resources that includes information and decision-making tools that are typically only available to larger companies.

University of Central Florida Business Incubation Program - The goal of the UCF Business Incubation Program (UCFBIP) and its community partners is to facilitate smarter, faster startup and growth of emerging companies so those companies will become financially successful, high growth companies in the community.
WindAge, LLC - Traffic-Driven Wind Generator; Capstan Human Energy Harvestor; Bicycle-and-Flywheel Human Energy Harvestor; Squirrel Cage Human Energy Harvestor